Microgreens have been the jumping off point for the majority of our experiences and learning this year in our grade 4/5 class. Microgreens are small versions of vegetables that we are able to grow from seed to harvest in 7-10 days in our classroom. Each week we grow sunflower, pea, broccoli radish and beet shoots, but have also tried purple kohlrabi, chia and kale shoots. We have been fortunate to secure contracts with two upscale restaurants in Kamloops, who purchase our microgreens each week. The students are extremely proud of their efforts to grow things that are being used in restaurants, especially when they see their microgreens on social media posts and when they are recognized on the menu. The ability to have a small class business has allowed us to create some fun learning experiences, which we would not necessarily have been able to afford otherwise. Students have had the opportunity to make wheatgrass/apple juice, salsa verde, sushi rolls and dried apple chips, just to name a few. We have also had the opportunity to visit a local organic farm, where we planted potatoes and visit the local farmer's market, where we purchased fresh produce to create different dishes back at the school. Those experiences combined with the microgreen program created real excitement amongst the students for the possibility of a school garden at our school.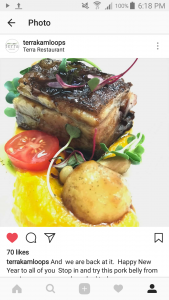 Attempting to maneuver through the red tape in order to get a school garden at our school proved to be quite the challenge. The lack of previous, long-term success with school gardens in our district has made some individuals in our district wary to adding any more at this point. This is why we came up with the idea of a community/school garden, which would be run by our PAC. They would lease out garden boxes to parents and community members, using the same model as the highly successful community garden model that currently exists in Kamloops. In addition to the garden area having an increased presence during the summer months, the hope is that it would strengthen the relationship between the school and community members. We recently received approval for five 4' x 8' boxes this year and are hoping to expand to ten to twelve next spring.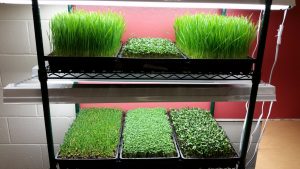 One of the most interesting experiences we were involved in was the Green Living Expo here in Kamloops. Myself and three students had the opportunity to share what we are doing with microgreens as part of the Farm to School booth and to give a short presentation at the expo. The amount of buzz and excitement surrounding our booth combined with the number of people interested in emulating what we were doing was extremely rewarding.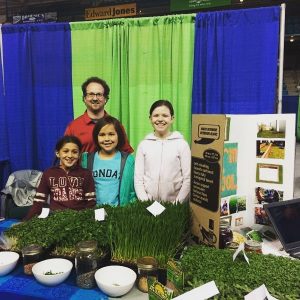 We have also been lucky enough to partner with the local Gleaning Abundance Project (GAP), which is a non-profit group of volunteers that pick fruit for people in the community. The model is that the homeowner gets a third of the harvest, the volunteers get a third and the final third goes to local charities, like the Kamloops Food Bank. We received more than 100 pounds of apples from GAP this past fall, which allowed us to make wheatgrass/apple juice, apple chips and various baked goods using the apples.
The learning experiences that we have been able to participate in because of the Farm to School grant have been tremendous. Just as important though, are the relationships and partnerships we have been able to build with local farmers, chefs and business people. As we move forward, we hope to expand our microgreen business and bring on more restaurants next year as well as beginning a healthy lunch program that involves the entire school using produce from our garden.
---